news
biography
discography
live action
audio & video
buy stuff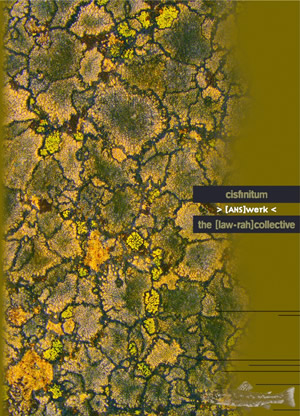 release info
title: [ANS]werk
artist: cisfinitum / the [law-rah] collective
label: fario
catalog nr.: fario CD11
releasedate: april 26th, 2011
tracklist:
1. the [law-rah] collective - broken gl[A]ss (9:12)
2. the [law-rah] collective - broke[N] mirrors (7:38)
3. the [law-rah] collective - broken dream[S] (9:08)
4. cisfinitum - tr[ANS] (22:52)
5. cisfinitum / the [law-rah] collective - [ANS]werk (7:02)
Russian one-man outfit Cisfinitum and Dutch duo The [Law-Rah] Collective are both dark ambient masters. They dedicated this split and common work to one of the very first synthesizers in the world, the ANS. The ANS, created by Russian engineer E. Murzin from 1937 to 1957, is an incredible response to the synesthesia theories (the letters ANS stand for Alexander Nikolayevich Scriabin who linked tones to colours). The ANS synthesizer (only one copy exists and is kept in Moscow) generates special frequencies from drawings ("it plays what you have drawn") and in the opposite it can also create a visible image of a sound frequency. Artists such as Coil, Edward Artemiev (for Tarkovsky's Solaris soundtrack) and Alfred Schnittke used the ANS in their compositions.
For this album, The [Law-Rah] Collective and Cisfinitum based their music on original sounds from the ANS as well as additional recordings of various analog synths, fractal and granular synthesis, voice, violin, field recordings. They give birth to an intense cold and grey music upon which fly ghosts of melodies, archaic or yet to come...
reviews
CISFINITUM/THE [LAW-RAH] COLLECTIVE - [ANS] WERK (CD by Fario) link
Fario is not quick with releasing their series of split/collaborative works, but they are usually something to watch out for. There are original tracks by each of the two groups involved and a collaborative piece. At the core of this new release stands the ANS synthesizer, of which only one exist, in Moscow. It was developed by E. Murzin from 1937 to 1957 stands for Alexander Nikolayevich Scriabin, the crazy composer with synesthesia problems. The synth translates drawings into sound, and was used by the likes of Coil, Edward Artemiev (in the 'Solaris' soundtrack) and Alfred Schnittke. I am not sure, but I don't think that Eugene Voronovsky, a.k.a. Cisfinitum and the Dutch duo The [Law-Rah] Collective actually used the ANS, but they use sounds from the machine, as well as voices, polivoks, violin, field recordings (in Cisfinitum's case) and analog synthesizers and electronics (in the Collective case). Cisfinitum's piece lasts almost twenty-three minutes of utter dark textured ambient bliss. Dark haunting, like a couple of mad monks chanting in the desolated abyss, before going out on a murder spree. Excellent dark trip. In their collaborative piece things sound slightly less dark and more conventional, in a sort of serious avant-garde way, the sort of Planet Of The Apes soundtrack. In the three pieces by The [Law-Rah] Collective things go under again, into the undercurrent of the styx with dazzling sizzling buzzing and ringing sounds of the analogue domain. Though their pieces are less of monolithic block of drones than Cisfinitum, The [Law-Rah] Collective have a somewhat more open sound, grey rather than black. Not really the type of music to be played alone in the dark. Keep candles burning until the end. An excellent display of the darker world of sonic depth. (FdW)
Cisfinitum / The [Law-Rah] Collective - [ANS]werk link
Fario presents a new release in their split releases series, a five-track CD packaged in a special oversized cover artwork limited to 500 copies. This time the invited guests are two dark ambient/drone/experimental masters: the Russian one-man project Cisfinitum and the Dutch [law-rah] collective.
This record is an homage to the ANS Synthesizer, a rare photoelectronic musical instrument created by Russian engineer Evgeny Murzin from 1937 to 1957. ANS stands for Alexander Nikolayevich Scriabin, the great Russian composer who was an early promoter of color/sound theories in composition. The synthesizer was housed in the electronic music studio situated above the Scriabin Museum in Moscow before moving to Moscow State University, and was used by Stanislav Kreichi, Alfred Schnittke, Edison Denisov, Sofia Gubaidulina and other Soviet composers. Also, Edward Artemiev wrote many of his scores to Andrei Tarkovsky's movies with the help of the ANS, for instance "Solaris" (1972).
Nowadays the only ANS device is available to a very restricted circle of musicians, as the single original model has been destroyed and the only device in existence, an improved later version, belongs to Moscow State University. Although the ANS has not achieved mainstream notoriety, the idea of transforming graphical inputs into sound structures prevailed and can now be emulated simply through computers. In this split album, Cisfinitum and the [law-rah] collective used original sound recordings from the ANS interspersed with additional recordings of various analog synths, fractal and granular synthesis complemented by Tibetan singing, Polivoks, violin and field recordings.
The artists definitely decided to make a very visually inspired work, suggested by the cover artwork, a complex fractal pattern. Also, the fractal and granular synthesis - each project having its own manner, despite the already unconventional method - are different, visually understandable approaches to sound manipulation, turning real world images into sound through fractal synthesis or splitting the sound into granular clouds with granular synthesis.
The first three tracks are from the [law-rah] collective. It starts with "broken gl[A]ss", a tone-infused drone piece that evolves the listener and prepares him for the beginning of this journey. It goes further with "broke[N] mirrors", another tone operated track, with a quiet, evolving fill that actually gives the listener the illusion of travelling up and down through a never-ending, low light empty room. The third and last exercise from the [law-rah] collective, "broken dream[S]", operates in a more forward moving horizontal direction when compared with the previous track.
Cisfinitum's solo voyage is "tr[ANS]", a patient and tremendous track lasting for almost 23 minutes, with plenty of luxurious reverberation that guides the listener through undisclosed and mystifying fields where, from moment to moment, familiar sounds are almost recognizable. But these flashes are momentary, and the listener plunges time and again into the infinite trip when time and space collide and become mutually irrelevant. This track is a brilliant opus and definitely my preferred work from this album. Both acts are responsible for "[ANS]werk", which fades out the album starting with early style synth work, remembering the synth experiments of the 1930s and '40s, but later turning into a more concrete and contemporary approach with experimental percussion and violin dissection.
The album may be a difficult to review, and I am sure that each listener would perceive it completely differently, but I am sure you that it will provide an abstract aural experience that definitely deserves to be enjoyed and surely remembered for a long time... and space.
[9.5/10] - Nelson B.
THE [LAW-RAH] COLLECTIVE | [ANS]WERK link
Hommage aan een bijzondere geluidsmachine.
Je kunt het Utrechtse The [Law-Rah] Collective wel om een stel donderende drones sturen. Dat bewijst vooral hun vroege werk. Recentere albums zoals Solitaire en Inspiration zoeken nadrukkelijker de meer melodieuze kant van het muzikale spectrum op. Dat kan komen doordat Martijn Piecks hand in die composities wellicht wat groter is dan voorheen. Op deze split-cd bestaat het collectief wederom uit Pieck en Bauke van der Wal, oprichter en spil.
De Russische drone-artiest Cisfinitum leverde voor dit project samples van geluiden uit de zeer complexe, optische synthesizer ANS. Daarvan werd er ooit één gebouwd en het apparaat, dat tegenwoordig in een museum in Moskou staat, is notoir moeilijk te bedienen. De samples werden naar Utrecht gestuurd, waar Pieck er zeer langzaam een diep droning geluidskunstwerk mee wist te ontwikkelen. Abstractie kenmerkt de traag verschuivende en etherische, bijna buitenaardse klanken van deze vroege synth. Met toevoeging van analoge synthesizers, elektronica en een snoeiharde mix brengen de [Law-Rah]-collega's uiteindelijk een drietal lange nummers dat naar geluidskunst neigt. Verhaal, melodie of structuur lijken de stukken te ontberen, fysieke en emotionele impact echter allerminst.
Cisfinitum trekt maar liefst zo'n 23 minuten uit voor zijn bijzondere epische compositie. Die kent opvallend meer richting en werkt in diepe drones bijna figuratief en beeldend, als galmende, grote ruimten die sonisch tot leven komen in een intergalactisch vacuŁm. De afsluitende samenwerking klinkt zeer twinkelend en opgeruimd, open en frivool, zoals bij Dick Raaijmakers. Wellicht is [ANS]werk, met al zijn verkenningen van de vele klankwerelden die deze hoogst bijzondere machine herbergt, het mooist denkbare eerbetoon aan de ANS en zijn bouwers.
Cisfinitum / The [Law-Rah] Collective - [ANS]werk link
Il y a déjà plus de dix ans le label Fario fut créé par l'équipe de l'excellente revue Feardrop afin de générer des rencontres sonores entre deux artistes qui n'avaient jamais travaillé ensemble auparavant. Pour leur onzième réalisation, ils ont fait appel à deux grands noms de la scène dark ambient, le projet russe Cisfinitum et les néerlandais de The [Law-Rah] Collective, afin de rendre hommage à un des tout premiers synthétiseurs, l'ANS. Élaboré par Eygeny Murzin entre 1937 et 1957, cet instrument, dont il ne reste qu'un seul exemplaire au monde, s'inspirait des théories sur la synesthésie de l'occultiste et compositeur Alexander Nikolayevich Scriabin (1872-1915) qui comparait les sons à des couleurs, les ondes à des images. On a parlé de << photoélectronique >> à son égard. Artemiev l'a utilisé notamment dans le film Solaris de Tarkovsky et des projets expérimentaux et industriels comme T.A.G.C. ou Coil ont composé des morceaux à partir des sons générés par l'ANS. Les deux projets ici réunis s'inscrivent dans la même optique, en rajoutant aux sons originaux de l'ANS des synthés analogiques, des voix, du violon et d'autres éléments, afin d'obtenir une musique drone, profondément enveloppante et belle, qui s'observe autant qu'elle s'écoute, invitant à un sentiment d'éternité, qui atteint son apogée dans le titre de plus de vingt minutes de Cisfinitum. La tension dramatique y touche au mystique en s'adjoignant des chants tibétains pénétrants et fantomatiques alors que le titre collaboratif se fait plus liquide et moite. Un disque à écouter avec les yeux.