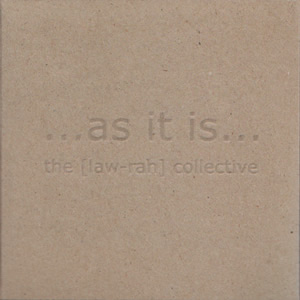 release info
title: ...as it is...
artist: the [law-rah] collective
label: spectre
catalog nr.: s29
releasedate: october 13th, 2007
as happy as some people are to give you the uttermost truth on life's questions, the [law-rah] collective happily tears it right down again. on their sixth release '... as it is ...' the [law-rah] collective gives its dark poetic view on stuff like, you know, the world, leaving the listener with food for thought and space to fill in the blanks.
on two 3" cd's you are guided through soundscapes built from deep ambience, harsh analogs and haunting narration. just like on the highly acclaimed '1953', released three years ago on spectre, this album is another true collective effort, combining the sounds from bauke van der wal with the words from hiekelien van den herik.
'... as it is ...' is about poles and opposites: 'heaven' versus 'hell', sound versus vision, life versus afterlife and 'me' versus 'that other me'. vast themes carefully downsized to fit your skull and keep ringing in your head long after the last track ended.
the beautifully designed 7" artwork in which the cd's are packed contains three photo's in 7"x7" format by the dutch photographer mareli huizenga. just the right size to frame and hang on your wall and give you a headstart on your journey through the darker parts of your mind.