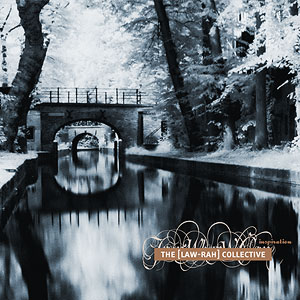 release info
title: inspiration
artist: the [law-rah] collective
label: ant-zen
catalog nr.: act224
releasedate: september 5th, 2008
tracklist:
1. ledig erf
2. de gesloten steen
3. amelisweerd
4. weerdsluis
5. a12
6. 't luie end
packaging: cd gatefold sleeve
this time the [law-rah] collective is martijn pieck and bauke van der wal. bauke is the founder and original member of the collective, hence the first releases were the result of his twisted mind. during the years of law-rah's existence, he has collaborated with several people and re-evaluated the collective nature of the project. this in turn has changed a solo project with a weird name to a true collective of artists in both the audio and visual arenas. martijn and bauke have known each other since 1993 and shared many hours making music together. however, in the mid 90's both martijn and bauke went in different directions when it came to creating electronic music. in the autumn of 2007 the time was right and they once again started making music together. with this release martijn has become a full member of the collective and ideas for many future projects are already locked into their collective minds. "it's a new collective now. so a new i ... i (me) becomes us. after incarnation and isolation, now inspiration."
(bauke van der wal)
compared with the collective's conceptual works like '1953', which was an earlier release by bauke and dutch writer, vocalist and member of the collective hiekelien van den herik, this album's subject is a more private and subliminal one. all track titles are related to baukes and martijns home town utrecht, and to the history they shared there over the years. a quote from a band both bauke and martijn appreciate is printed on the cover as a good example of their 'inspiration' and perfectly illustrates their thoughts about this town:
"this is the place where all roads meet, the place where all is secret. the place where time stands still in the comfort of night and love becomes will in the presence of light. i never want to leave..."
(taken from 'terminus' by psychic tv)
musically, 'inspiration' can be clearly identified as a new step in the [law-rah] collective's exploration of their electronic microcosm. sub-bass lines and drones interact with beautiful idm'ish melodic lines that are complimented by pulsing beat sequences - inducing an overall majestic and sometimes melancholic impression. this music is filled with deep, haunting and phantasmagorial sounds that are expertly adapted to give one's fancy a full scope of emotion. more simply put, this is a inspired journey through two persons' past and present.
"the basics from the [law-rah] collective always was that you create your own imaginary movie and we'll take care of the soundtrack..."
(bauke van der wal)